Dirty Toys Made in China
Some 1,800 Chinese workers in the Dongguang Zhenyang Wanju factory in Guangdong produce toys for Disney, Mattel, Hasbro and other international brands, under harsh conditions, stripped of their rights, their voice and basic justice.
Holiday Toys Made Under Sweatshop Conditions
Click here to write to Disney, Hasbro, Mattel and other companies producing in the factory.

Today, the Institute for Global Labour and Human Rights (the Institute) is releasing a new report, "Dirty Toys Made in China."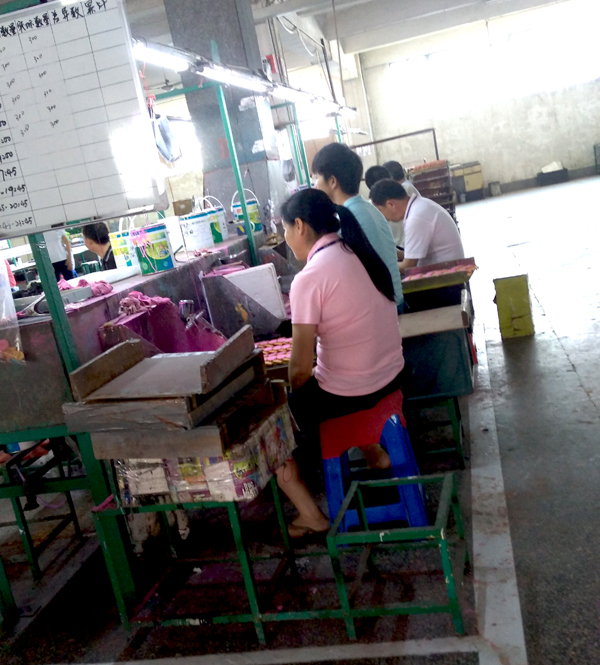 Popular toys, sold by major retailers across the U.S., Europe and Australia, are made under harsh and abusive conditions at the Dongguan Zhenyang Wanju Limited factory in China by young workers forced to toil 12 to 13-plus hour shifts in near freezing conditions, earning as little as $1.36 an hour and sleeping in crowded dorms on narrow wooden bunk beds.
The Zhenyang toy factory has over 1,000 regular employees and 800 temporary and student workers, many of whom are just 16 years of age. Workers are required to be between 16 and 30 years old and two-thirds are women.
Zhenyang mainly manufactures Christmas toys, dolls, infant and baby toys. Right now, Zhenyang is in the middle of the toy manufacturing peak season.
Workers cannot have tattoos or colored hair, and must not have any disabilities, especially of their hands.
New workers receive little or no training, even for work in dangerous departments.
Workers interviewed by our researchers identified many health hazards at Zhenyang. But the factory has no health and safety committee.
In peak season, shifts run 12 to 13 ½ hours. The Injection Molding department runs back-to-back 12-hour day and night shifts.
Work in all of Zhenyang's production departments is constant and fast. Pressure to produce and make quota is enormous: "Both hands must be constantly moving," the workers say.
Work areas are very crowded. Workers are not allowed to move from their work stations, or even to drink water. They must get a special pass to use the bathroom, and each production line of 35 to 50 workers has only one pass.
The workers do not use earplugs despite the fact that noise levels are extremely high in some departments. Workers report that some of their colleagues who are longtime employees of the factory have suffered hearing loss.
In the spray paint department, the workers do not always have fans. Nor do they have masks. The spray paint and printing work rooms are full of fumes from chemicals including industrial alchohol, phenylenediamine and sodium peroxide. Workers just starting in this department often feel nauseous and dizzy, and have headaches.
In the Assembly Department and warehouse, there are locks on the fire safety doors.
Making laser guns and toy cars, the quota for a team of 36 workers is 11,000 pieces a day. So, in essence, each worker must complete 306 toys per day.
During the period of our investigation, the factory was toiling to complete a contract to produce 100,000 Disney dolls!
A worker told us that she had to make 2,400 Disney doll legs in a day—an average of 218 legs per hour! She said, "You can't take your eyes off it for a second."
The labor contract is just a blank sheet of paper. There is nothing on it, and workers are told, "just sign it."
One worker told our researchers, "If I am discovered using a cell phone at work, my cell phone will be confiscated, given to the administration, and held for a month!"
All overtime is obligatory and sick leave is not allowed.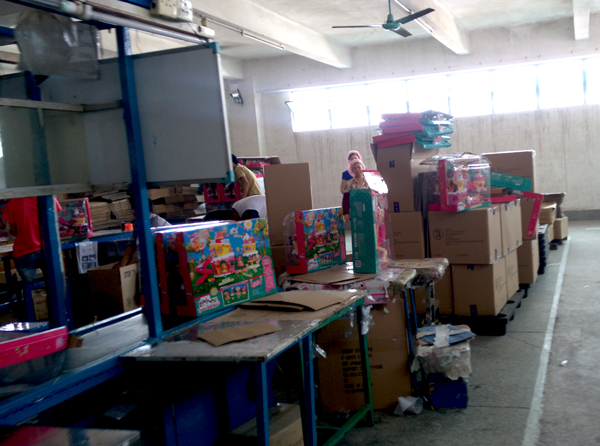 Workers found a water pipe spewing what they believe to be sewage from one of the factory buildings into a nearby stream. The discharge is yellow and has a putrid smell.
There is no heat or air conditioning in the factory or dorms. In Guangdong, temperatures can go down to the low 40s Fahrenheit in winter. Workers wear coats inside the factory.
An experienced male worker at the Dongguan Zhenyang factory has been working there for two years. He volunteers for a lot of overtime, when he can earn 13.02 RMB ($2.05 USD) an hour during the week, or double time of 17.36 RMB ($2.73) per hour on weekends.
"I also have a child," he told us, "and I pay for him—school tuition and more. I can skip meals, but I don't want to deprive my child. At the end of the month, I don't have much money left!"
Chinese toy production and global warming: According to the New York Times, citing a recent study, "while it might be cheaper to make things in China, the cost is more pollution than if goods were made elsewhere." (NY Times, "China's Exports Are Closely Linked to Its Emissions," October 1, 2015)
Click here to write to your favorite companies producing toys in the factory.