Graphic Packaging Union Council Meeting Builds Solidarity Between US, UK Workers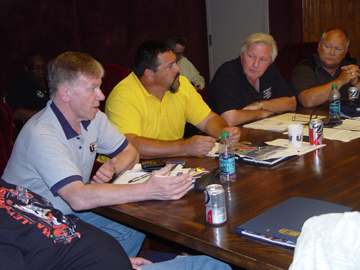 Graphics Packaging has grown its presence rapidly in the US over the past several years. Late last year, the company also became a significant player in the UK with the acquisition of Contego.
Since that time, the USW and Unite the Union in the UK have been working on expanding solidarity between locals and Unite chapels on each side of the Atlantic. These meetings initially started with a high-level discussion related to the creation of a Graphics Packaging European Works Council and the sharing of intelligence on Graphics Packaging contracts and management styles and collective bargaining strategies.
During the week of July 8 in Nashville, Tennessee in the US, Graphics locals from the US and chapel reps from the UK convened to discuss events at local sites and expansion of our activities.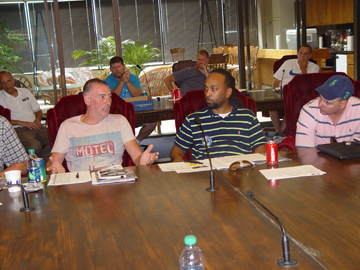 Mark Barnett from the Graphics plant in Bristol, UK, on this first visit to the US, quickly made this observation: "It is clear, that despite the many miles that separate us, our interests are very much aligned."

Dave McCall, USW executive board member and director of the USW's activities in District 1, convened the annual meeting of the council to discuss strategy and have the locals report out on the current state of events in their shops.
McCall said: "The Workers Uniting project gives me great optimism about the future of the labor movement in two countries where labor has for decades been under serious attack. Every meeting moves the project forward as we learn more about each other, and the knowledge and actions that are beginning to come out of the meetings are already giving us more power at the bargaining table."

There are a significant amount of Graphics Packaging collective agreements expiring in the next 18 months, and the council has vowed to work more closely together to improve retirement programs, health insurance programs and security.
Tim Elliot, Unite Regional Officer, who has been engaged in projects with other US and UK paper and packaging companies, said: "Except for the obvious problems with the troubled US health care delivery system, our issues, concerns and goals are the same. When I hear about the extreme costs to employees of health care in the US and the complaints about not being able to go to the doctor because of high upfront payments that are required, it is perplexing that a country like the US cannot develop a more effective and efficient system like the ones that exist in the rest of the industrialized world."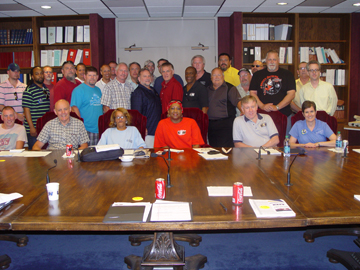 Glenn Jackson, a member of the Unite Executive Council for the GPM sector, works at a Graphics Packaging plant and said: "The meeting was a fantastic opportunity to meet new comrades from Graphics and interact with them to build a stronger Union."
At the meeting and discussions afterward the parties vowed more cooperation and progress.