If not now, when?
As talks between steel giant Tata and unions broke down over changes to members' pensions scheme, Tata electrician Charlotte Upton, 25, spoke to UniteLive about the upcoming industrial action ballot ... more
Unite's Charlotte Upton on Tata pensions dispute
Rae Passfield, Courtesy of Unite Live
As talks between steel giant Tata and unions broke down over changes to members' pensions scheme, Tata electrician Charlotte Upton, 25, spoke to UniteLive about the upcoming industrial action ballot and what the pension scheme means to her and her colleagues.
In its bid to close the British Steel pension scheme, Tata now proposes that its workers must retire at 65, not 60, or face a 25 per cent loss of their pension.
While many office workers might consider working five extra years to receive a full pension a reasonable ask, Upton, who has been working for Tata and its predecessor Corus since she was 16, explains why it's an unacceptable – and dangerous – proposition.
"The vast majority of the people in the pension scheme who work for Tata Steel work shifts, and it's been medically proven that working shifts especially including nights can shorten your lifespan," she said. "The manual element of our job means that we physically deteriorate much quicker than someone who works in an office.
"I work with many gentlemen who are between the ages of 55 and 60," Upton explained. "And they have back problems, and they struggle with their knees. The job is so physically demanding such that we simply aren't as healthy at 65 as someone that age working in less manually intensive work."
Upton, who works shifts in the plate mill at Tata's Scunthorpe site, noted that working with struggling colleagues over 60 puts much greater pressure on younger workers like her.
"Older colleagues will obviously not be able to do the same amount of work as a 25-year-old doing the same job, so we're put under lots pressure to look after the older generations of workers."
Decades of loyalty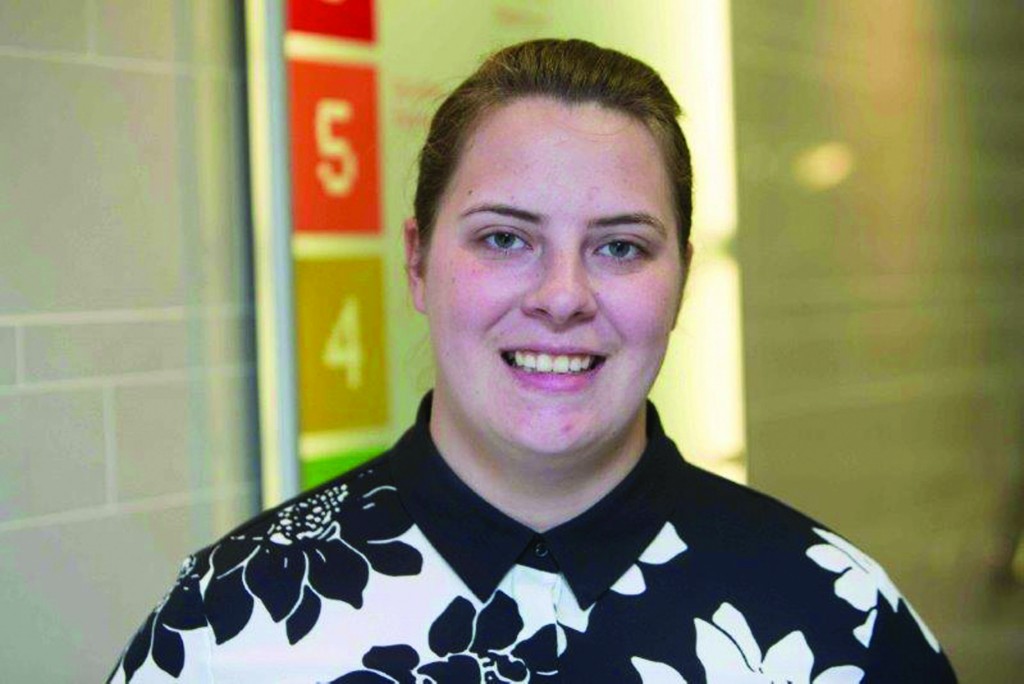 Unite rep and Tata electrician Charlotte Upton, 25
Upton condemned the way in which decades of loyalty by some of Tata's steel workers were not being valued by the company.
"Many steel workers have been working here for 40 years or more. They've dedicated their lives to this company and they honestly feel like the company doesn't care about them, that they have no regard for the sacrifices they've made for their families, especially working shifts.
"All they want is to be able to retire at an age at which they can fully enjoy their retirement and their pension, instead of possibly being too old or too physically incapable to do all the things they would expect to do after working somewhere for 40 years."
Last year, when an auditor found that there was a £966m deficit in the pensions scheme, trade unions including Unite immediately took to constructive talks with management. Although the company is legally obliged to pay for the deficit, and has always done so in the past, Upton explained that the unions offered to help.
"We sat down with the company to try and see if we could work together to reduce that deficit, including putting forward the possibility of changes to members benefits to help meet the deficit."
Despite the unions acting in good faith to resolve a deficit that has always been the company's responsibility in the first place, management insisted on proposing changes to the one arena workers would not—and could not—accept.
"Tata Steel doesn't pay the most competitive wages," Upton argued. "But the saving grace of the fact that we aren't earning as much as we can elsewhere, is that we've got a very good final salary pension scheme. An attack on our pension scheme, in this context, is unbelievable really."
As an active Unite member, who is both a branch equalities and communications officer, as well as a workplace, safety and equalities rep, Upton urged members to consider how high the stakes are as the industrial action ballot is set to open.
"The company has slowly been chipping away, chipping away at our terms and conditions over the years. If we don't stand up and fight for our pension, then the company will absolutely try to destroy our terms and conditions even further.
"This is because they know that if we are not going to stand up now, then there's very little we'll stand up for."