Next Workers Uniting Leaders Emerge
Workers Uniting held its leadership program in July, 2012. Following is a report by participant and Unite member Scot Walker:
--------------------------------------------------------------
Workers Uniting – Building International Power
--------------------------------------------------------------
On the 15th of July this year, some thirty trade union activists from Unite and the USW were brought together for a week at Unite's centre in Esher, under the Workers Uniting education/exchange programme. The core aim of the programme is to build workers' power internationally - I was lucky enough to be one of the Unite activist's participating and was asked to write a short piece about the experience for the Workers Uniting website – so here goes!

When I was asked if I'd be interested in participating in the programme, for me it was a no-brainer. I've seen my own employer move through acquisition from a relatively small entity, to a national company to a trans-national corporation (TNC). I also represent other workers in the meat sector who work for other TNC's and I've been working with the International Union of Foodworkers on a global organising agenda for the meat sector. Of course, it's not just my own sector that's seen a seismic shift away from national to trans-national corporations – that's the nature of globalisation, companies swallowed up by larger entities with the means of production falling into fewer and fewer hands. If we're serious about organising and building worker power then we have to recognise that has to be across borders and continents, so like I said, the opportunity was a no-brainer and something to be snapped up without any hesitation.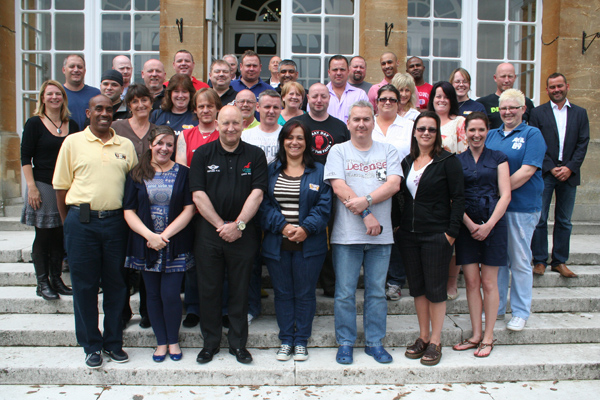 Upon arriving at Esher, introducing myself to my fellow comrades was interesting. When I used to introduce myself as Scot Walker, people would say, 'Ah, like the singer, The Walker Brothers'. Now the reaction is much different, especially amongst American comrades. It tends to be more along the lines of, 'Like that ba****d Governor from Wisconsin' – and who can blame them, given the onslaught they've faced on workers' rights. Anyway, let's just say my name is proving to be an effective ice breaker these days and my fellow activists didn't disappoint!

From that point on, with the niceties aside, we hit the ground running. It's not possible to cover all the activities here, but in summary, over the course of the week we looked at the different structures of our unions and how they function, an exercise that gave us a whole new range of acronyms and terminologies to get to grips with. In some instances we shared the same terminology but it meant entirely different things to us, a case in point being the Right to Work campaign – a neo liberal attack on labour rights in the USA but in the UK, a defence of labour rights and decent jobs. However, what it taught us is that there was much more that binds us than separates us.

We covered the history of the USW, Unite and Workers Uniting – not just to get a sense of who we are and where we came from, but what made us and what drives us? What are our common aims and how best can we further them – particularly in a global workplace?

We looked at the different companies and sectors our unions organise across and the challenges that face us in organising across TNC's, the differences in labour market regulations we face, the political systems that develop them, and the thinking behind different economic policies.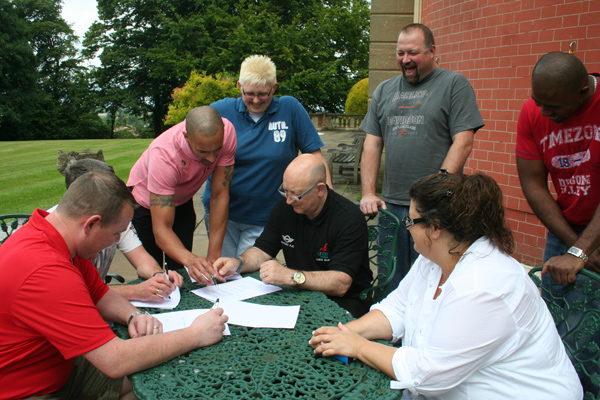 We examined the nature of globalisation and whether it had provided anything positive for workers? It would be an understatement to say we struggled to find the positives. We looked at developing alternative strategies to globalisation and neo liberalism and at building alliances with social movements to realise these strategies.

The sessions were a good mixture of facilitator led discussions and working groups, with some of the working groups proving more popular than others. One particular exercise required you to put yourself in the mindset of the capitalist CEO, seeking to increase profitability for your company. Some activists found this difficult to get their heads round, their motivations being so inherently different from the capitalist. Others took to it like ducks to water and I couldn't help wondering if they'd missed their calling in life! Seriously though, the exercise gave everybody a great insight into just how inequitable capitalism is and how loaded the system is against ordinary workers.

The course also included a visit to the Houses of Parliament with a session on the political system in the UK and Ireland and an examination of Unite's political strategy. If I have one criticism of the course, it's that Parliament wasn't in session and there was no opportunity to meet with any of the Unite Members of Parliament grouping. Hopefully this will be taken on board for future courses.

One final piece worth a mention before closing was the quick session we had with Union Solidarity International, an organisation supported by Unite and other trade unions which is trying to facilitate international solidarity campaigns through the use of social media – they're worth a look: www.usilive.org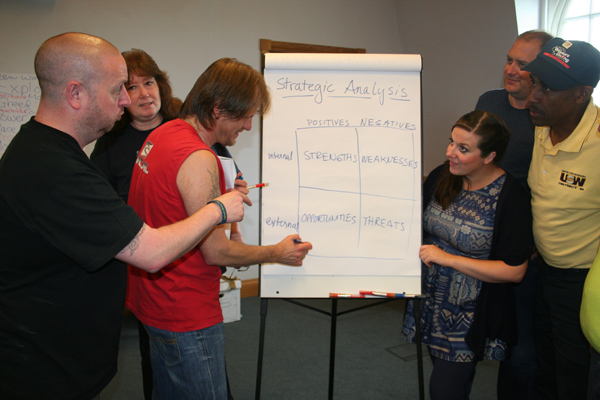 Stepping outside of the course itself, the experience provided the opportunity to speak to comrades about the challenges they are facing, both in the workplace and on the streets. I found the exchange of such personal experiences to be invaluable, not just on the course itself, but subsequently as we have already set up a network of contacts who are sharing information.

I thank Workers Uniting for the opportunity and experience and I thank my Sisters and Brothers for their comradeship. Of course, the work is not done yet, all participants will have to carry out a 'Good Works' project before completing the second part of the exchange programme next year.

I think the course was vital, not only in bringing us together but for the sense of empowerment and solidarity it has provided. It has left me not only with a greater understanding of globalisation and the challenges we face, but inspired me to know that even in some of our darkest days, there remains an appetite to fight for what is right.


Scot Walker
Chair, Unite Meat Workers Combine