Workers Uniting Expands Unite Bombardier Campaign to Mexico
Workers at a Bombardier production facility in Mexico held a major rally to support the Unite-led campaign to save a Bombardier train facility in the UK.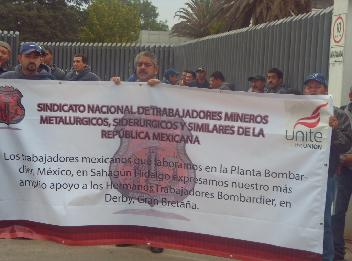 Around a hundred members of the National Union of Mine, Metal, Steel and Allied Workers of the Mexican Republic (SNTMMSSRM) employed at Bombardier in Ciudad Sahagún, Mexico, held a rally on July 23, 2011 in support of the UNITE members at Bombardier in Derby.

The event was organized to coincide with a march and rally in Derby on the same day that was organized by Unite.

SNTMMSSRM – known as Los Mineros – has a Strategic Alliance with the United Steelworkers (USW), Unite's partner in Workers Uniting.

The campaign aims to reverse the UK Tory-led government's decision to exclude Bombardier UK from a contract to build new train carriages.

1,400 workers face redundancy and the future of Bombardier, the UK's last train maker, is at risk.

Revitalizing manufacturing in the UK and North America continues to be a major focus of Workers Uniting.