Workers Uniting meets in London to build union power in Siemens
On September 20th, organisers from the United Steelworkers (USW) joined Unite officials and union representatives responsible for Siemens workers throughout the UK and Ireland (also known as the Siemens Combine) and members of the Siemens European Works Council and Siemens Supervisory Board in London to address a number of serious labour management issues presently occurring throughout the multinational corporation.

Unite represents a vast majority of the 13,000 Siemens workers in the UK. Nevertheless, Siemens continues to obstruct Unite's requests to establish a legal Information and Consultation structure which is provided for under European legislation. The meeting developed strategies to break the log jam so that Siemens workers in the Great Britain can benefit from the Information and Consultation Process.

USW organisers also gave a detailed presentation of Siemens union-busting activities at their facility at North East in Maryland, USA.
Siemens has more than 60,000 employees in the USA. At the Siemens facility in Maryland, the company engaged in an all-out assault on the workers' efforts to organise a union with the USW, bringing in three union busters.

Siemens completely ignored its July 2012 agreement with the global union federation IndustriALL, the Siemens General Works Council, and IG Metall trade union in Germany to respect workers' rights to form trade unions. Workers Uniting (www.workersuniting.org), IG Metall and IndustriALL global union federation launched a campaign with the website LabourStart to highlight Seimens anti-union activities in the USA. IG Metall and German workers representatives reported on the coverage of the USA anti-union campaign in the German media severely embarrassed the company.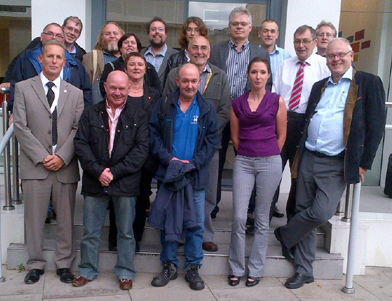 Representatives from the German workforce and IG Metall also outlined the difficulties that workers have in dealing with the company. explaining that workers in Siemens' home base in Germany are facing union busting rarely seen in that country. They detailed a situation in eastern Germany where a group of workers at an appliance manufacturing plant were threatened with plant closure if they continued their campaign to seek union representation and a modest pay increase.

The meeting agreed to build additional leverage to change the situation in North East, and to work towards making sure that such a situation does not occur in the future at other facilities globally and to ensure that Siemens honours its recently signed global commitments across the world.